While Oregon has some other places managed by the NPS, such as national monuments and historical sites, Crater Lake is the state's only national park.
Crater Lake is unique for the way it was formed. Once there stood a volcanic mountain which collapsed during a major eruption. In its crater snow and rain water accumulated and formed Crater Lake. Its piercing blueness is incredibly stunning, one is left standing and gasping in disbelief that a lake so blue exists out in nature and not only in highly edited photos.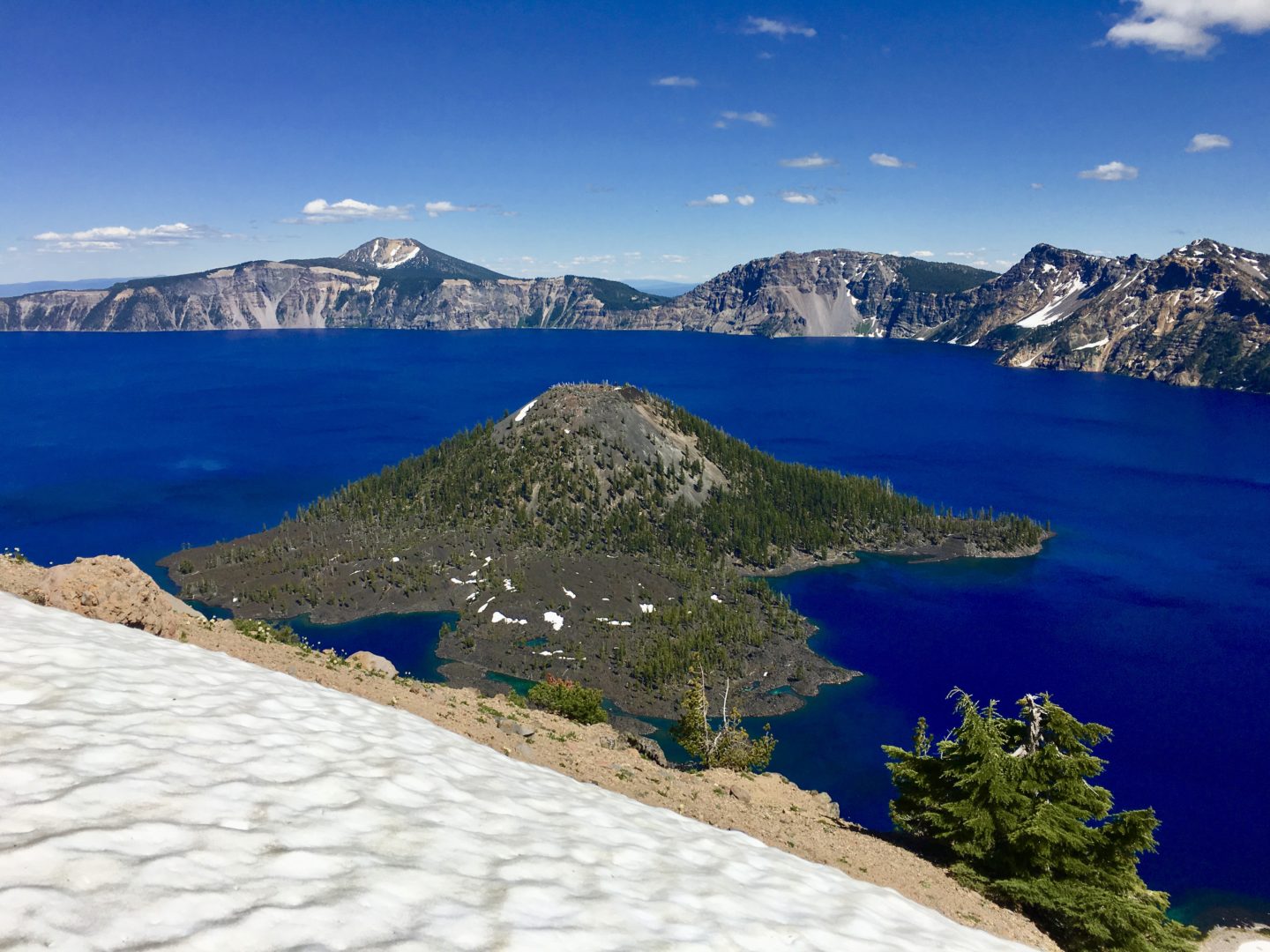 Some things worth knowing before visiting:
Unless you get out of your car and hit the trails on foot this isn't the place to enjoy nature in peace and solitude.
There is only one paved road for cars going around the lake and it gets very busy. There is heavy snow for a good part of the year therefore the road is only open for cars in the warm season which coincides with kids being out of school and most people going on vacation. Allocate plenty of time and be prepared for traffic jams, difficulty finding parking, long lines at restrooms, cafe and gift shop.
There is only one designated trail going down to the lake. It is mostly dust and sand and because of the high number of people on it and the many who are oblivious to trail etiquette expect to be covered in dust at least up to your knees. I saw several people with their cameras in their hands uncovered or hanging towards the ground and I could see the temptation because it's so beautiful you'll want to snap pics every minute but you'll also get it extremely dirty on this trail if you do that. Do you really want to destroy your expensive lens? 
It's a short trail with lots of shade but a bit steep on the way back and can't emphasize enough, very dusty, please, leave your babies at home (saw several squished into chest carriers on a blazing hot day).
If you are running short on time don't stress about making it down to the lake, it's nice if you want to take a swim or have the day to spend, but the views of the water are much more amazing from above. If you only have a few hours, find a less busy spot and enjoy a picnic along the rim at the top instead, or get off the road and hike up into the woods.
There is no beach at the lake, only a narrow rocky area where one can sit, but it gets crowded.
The water is very cold, I mean very, very cold!
If you want to take a cruise on the boat/ferry it's best to buy your tickets in advance and FYI the boat is open top.
The park is open for visit in winter but the road around the rim is closed for cars. On clear days the lake can be seen from Rim Village, however winter clouds are often so heavy visibility is partially or entirely diminished. Trails are covered under snow from around November and well into spring therefore the park recommends snowshoes or cross country skis for anyone adventuring beyond Rim Village.
It's a region with high snow fall so even in summer the mountain tops are enveloped in snow which makes this place even more magical.