Arguably one of the prettiest hikes of my life, I was very happy with my decision to include it in my itinerary. The choices are many in Glacier National Park, so read on to decide if Iceberg Lake should make your list.
Iceberg Lake is located in the Many Glacier area, on the east side of the park. The trailhead is right behind the Swiftcurrent Motor Inn. It is just under 10 miles roundtrip, the beginning of the trail is the steepest section, after that the elevation gain is barely noticeable.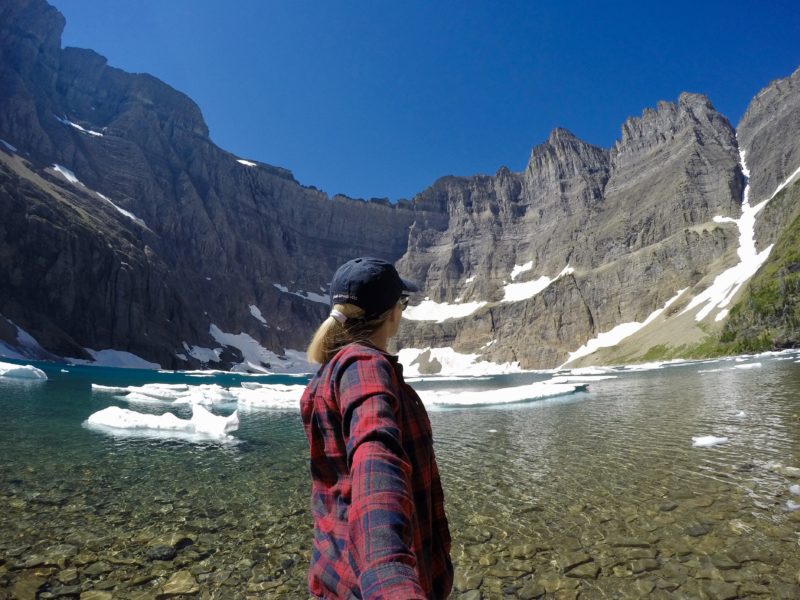 The area is prime bear habitat, traversing thick huckleberry, boysenberry and forest covered terrain. It is not recommended to hike solo, in fact there are numerous signs all over Glacier National Park warning about this!
The park has group hikes lead by a ranger which are free to join. That is what I did and I was so glad. It would have been too dangerous on my own. The trail is moderately travelled but there were sections where it was only our group and I wouldn't have liked to be alone there.
Our guide Gordon, was awesome, he told us about the plants and trees we were passing, bear activity, he was funny and informative. We took a break at the top of Ptarmigan Falls but Gordon did not sit down or eat, I felt bad for him. A few of the hikers approached him to chat and I think he was too professional to eat while answering their questions.
This summer there were two ranger led hikes per week to Iceberg Lake, but the schedule changes for each season. We left at 8:30AM promptly from the meeting spot in front of Swiftcurrent Inn, then stopped for a short intro at the head of the trail. Our pace was super leisurely to accommodate everyone in the group. If you are going on a ranger led hike you will not be left behind, the ranger will rather slow down for those needing a break than risk someone fainting.
Our group spent a little over an hour at Iceberg Lake. We arrived back at Swiftcurrent Inn around 3:30PM.
If you decide to go with your own group, you should be at least 3-4 adults, carry bear spray, know how to use it and keep the conversation up loudly.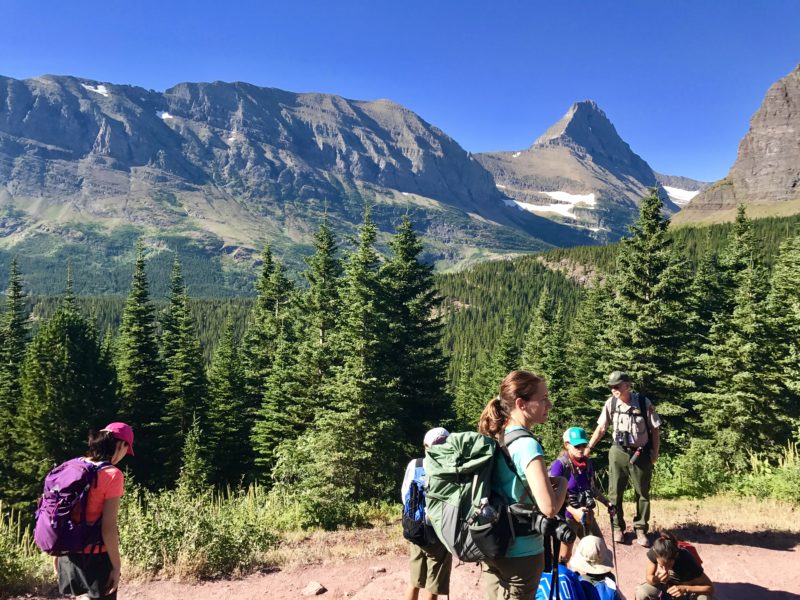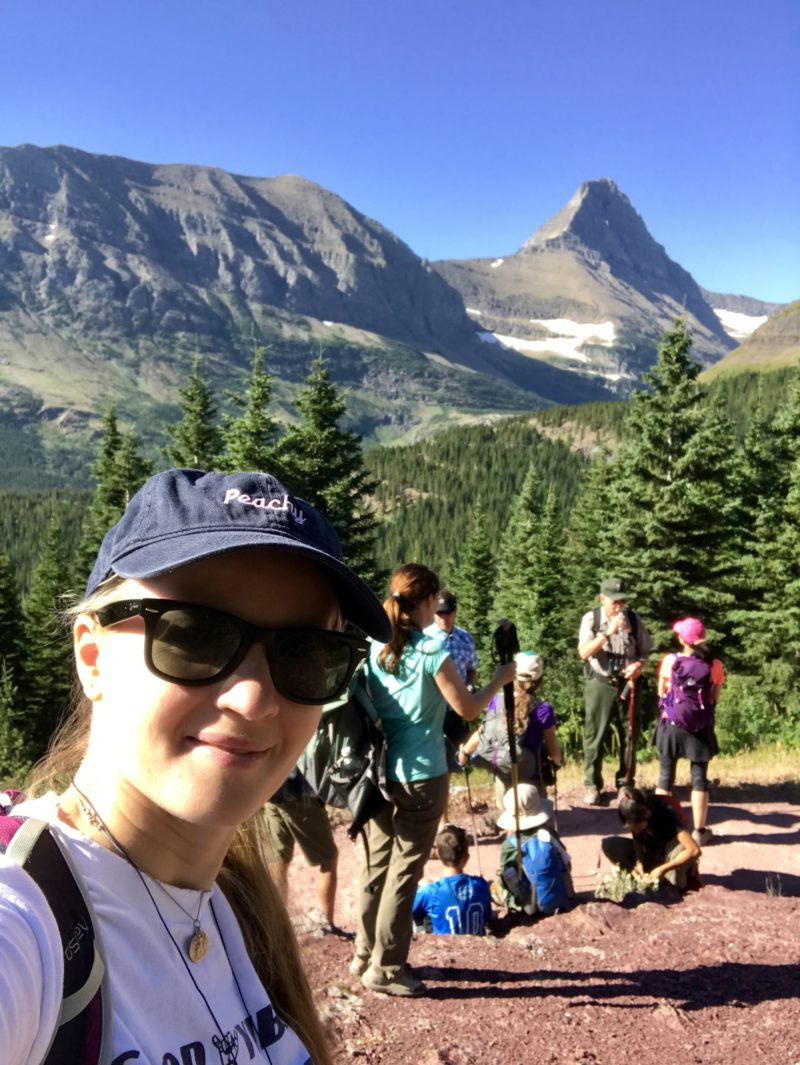 Gordon pointing out bear marks on this tree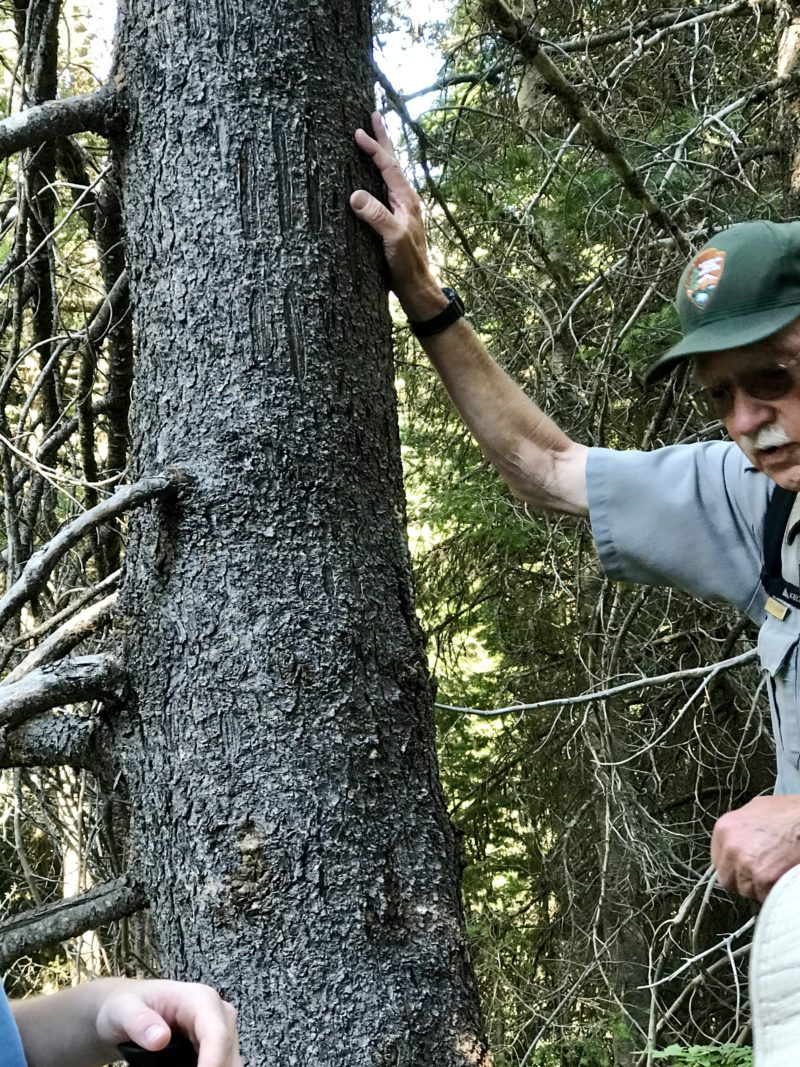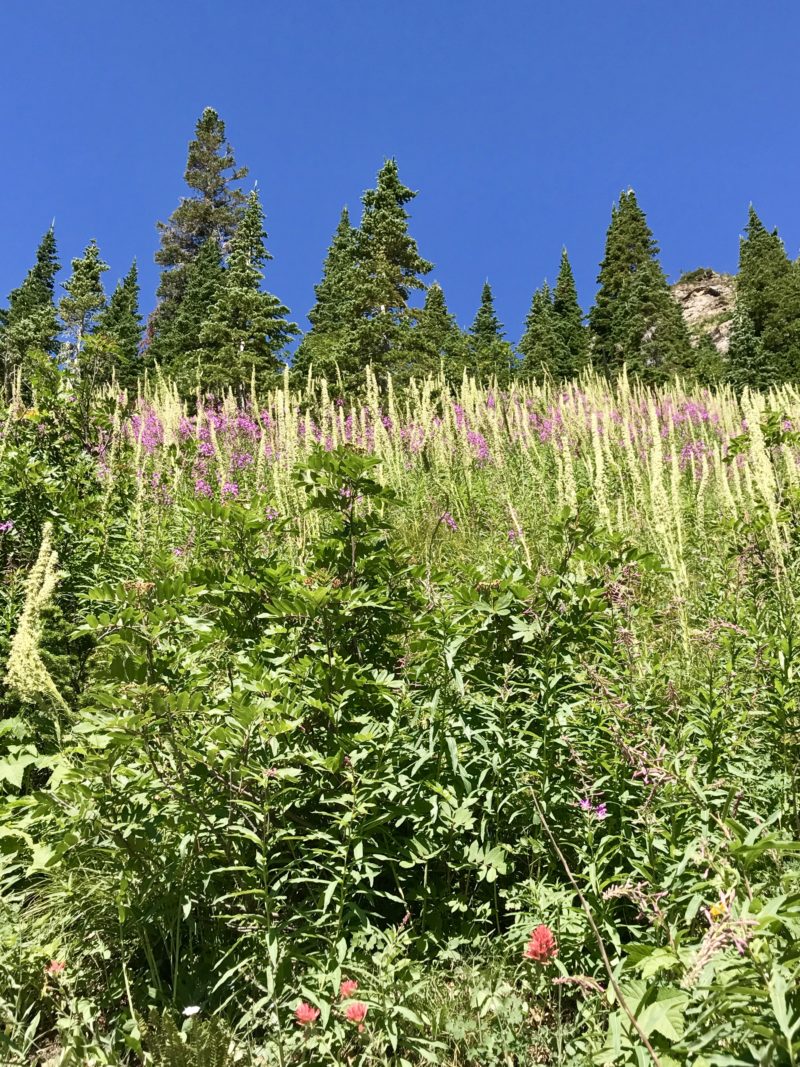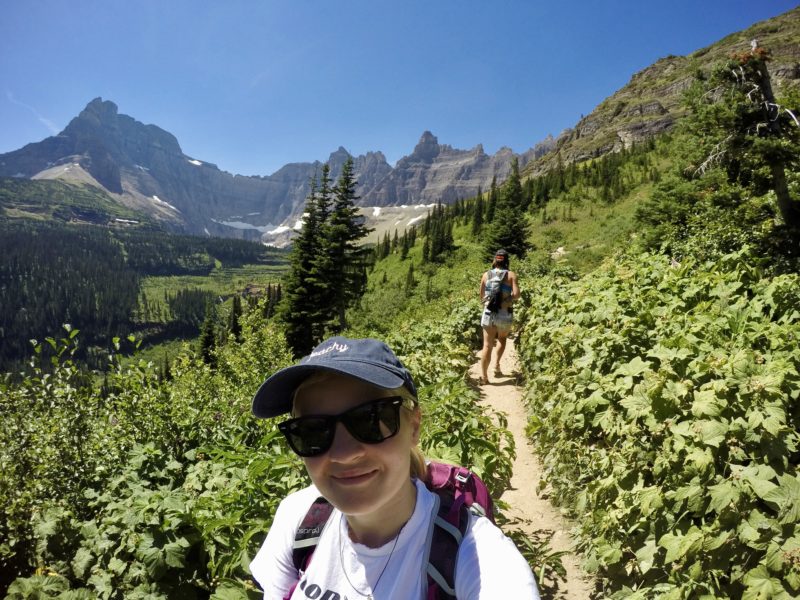 Snack stop at Ptarmigan Falls, about half way to Iceberg Lake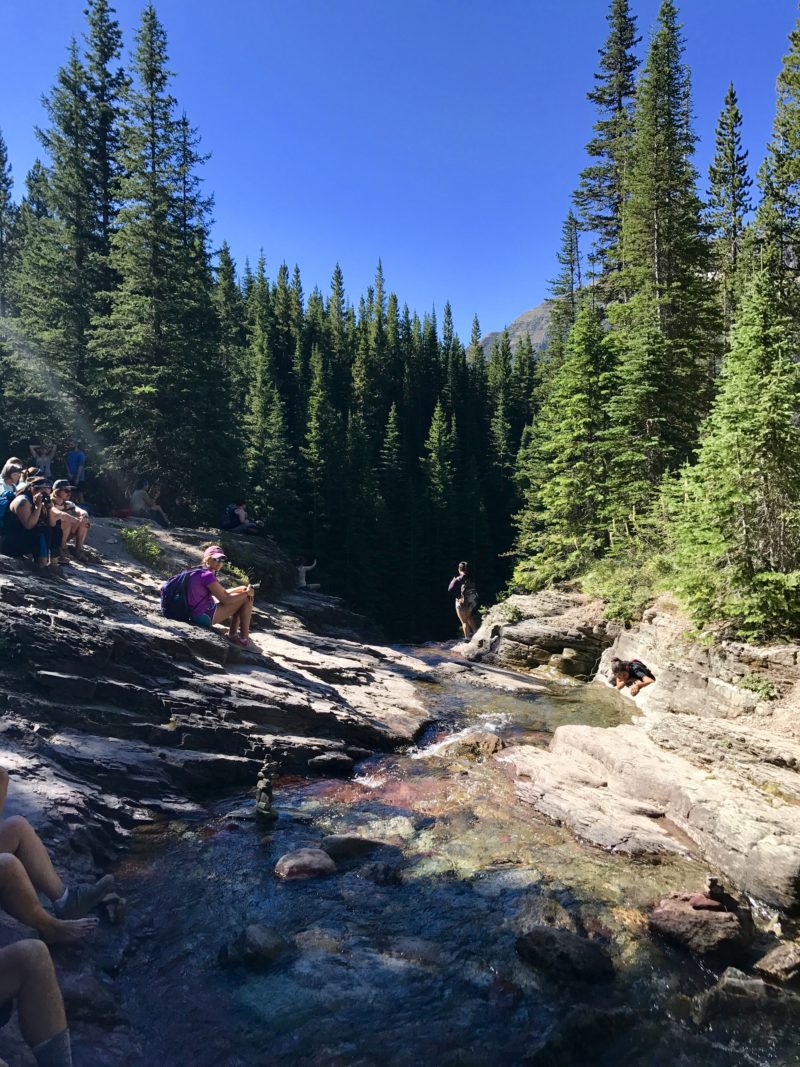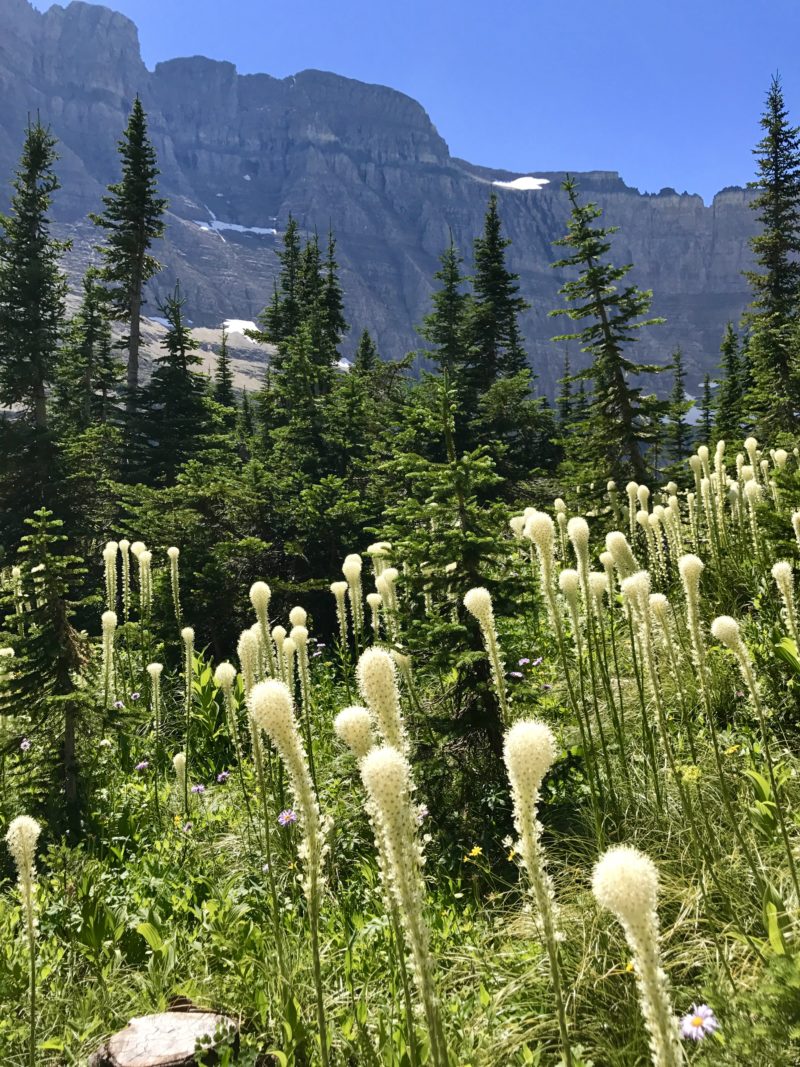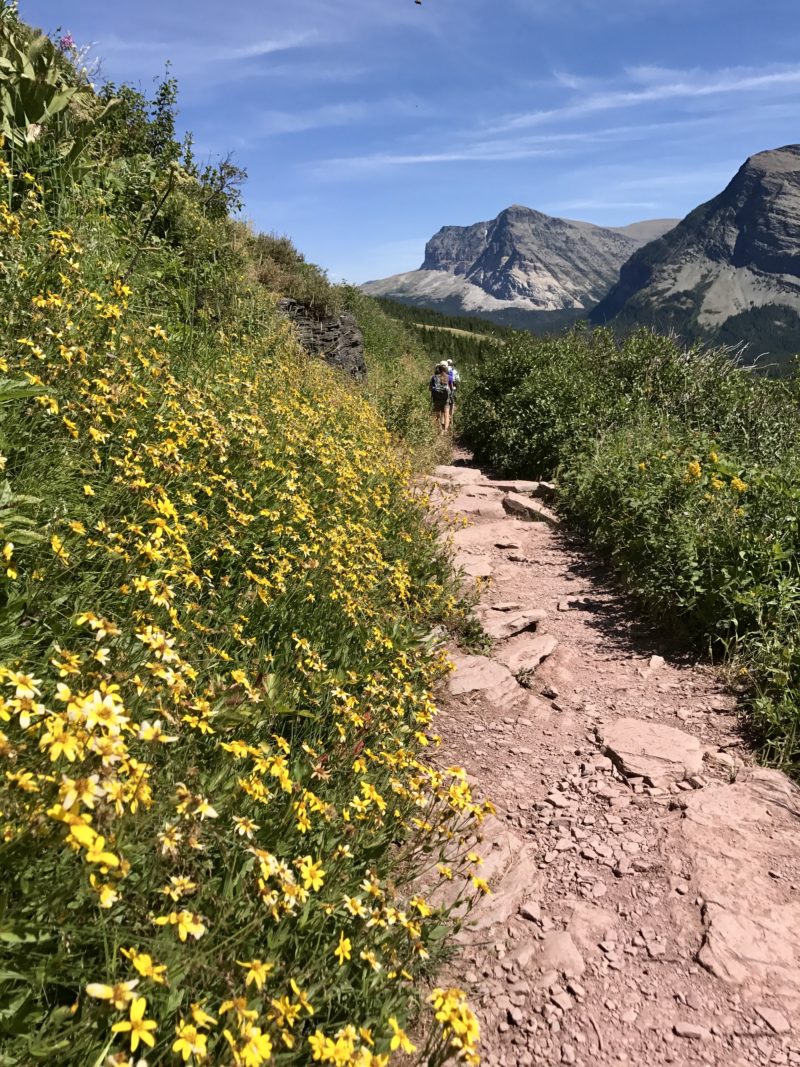 Who is this hike for? Any adult in at least moderately good physical condition.
Is it good for children? I am not one of those people who advocates taking infants or toddlers for hikes lasting longer than a couple of hours, so no, not for the very little ones, the hike is way too long for a small child to be squished into a backpack for more than half a day.
However, if you have a school aged child accustomed to longer hikes, yes. There was a 7 year old boy in our group accompanied by his family who did very well.
Where to stay?
As I mentioned above the trailhead is right behind Swiftcurrent Inn, so that is a great option if you can snag a cabin.
The Many Glacier Campsite is right across from Swiftcurrent Inn, and the fancier Many Glacier Hotel only a couple of miles away.
If you are unable to get a spot at any of the above try to stay as close to the Many Glacier area as possible. This goes for all other hikes you plan on doing in this part of Glacier. Driving from Kalispell or other towns on the west side of the park takes too long to allow for an enjoyable day.
Where to eat?
Swiftcurrent Inn has a restaurant which is open all day starting at 6AM if I remember correctly (at least in the summer time). I had breakfast there every morning before my hikes in the area, the food was good and the service attentive and fast. It is a very casual place with typical American dishes but also some vegetarian options.
There are also some snacks and pre-packaged cold sandwiches at the gift shop next to the restaurant.
At Many Glacier Hotel there's a restaurant and a coffee shop. I liked eating here in the evening. They have a terrace surrounding the hotel overlooking Swift-current Lake, it's the perfect spot for a post hike cold drink and a snack. The hotel restaurant did not allow take-out though.
But, is it worth it?
Oh yes, and yes! The entire trek is amazingly gorgeous and as we approached Iceberg Lake it truly got epic, the semi circle towering mountain ahead of us, tall fir trees guarding the lake and a sea of colorful wild flowers welcomed us towards the end of trail. And then Iceberg Lake, glistening in the summer sun, it was a clear turquoise blue and true to its name ice cold! Three brave ones jumped into the lake and swam to the nearest iceberg. I took my shoes off and stood in the water for exactly 22 seconds and couldn't take it any longer it was so painfully cold!
Gordon told us a ranger used to drink directly from the lake until he found a dead goat floating in it once. Lesson: even if it appears crystal clean filter the water if you want to drink it.